Hello! Welcome to my cozy little side of the web! I initially started this website in 2020 and had no clue as to what my goal was, but I'm quite happy with how it's turned out so far! I hope to give anything I'm able to provide for others to find either inspiration, motivation, or some resources that would benefit them! In the Prismatic Realm, sharing is caring. If it makes others happy, then why not make things easier for them? I love sharing inspiration and the stuff I've gathered with my time on the internet.
Information
I hope you find my site a positive, enjoyable experience! Navigational sidebars are located to the left and right respectively, from site-related goodies, to personal pages!

Please mind your step, things are a bit messy at the moment, but I assure you it'll all come together very soon!
Link Me . . ?


---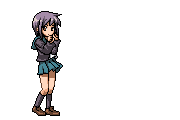 109 days until my birthday
The time is currently: [9:54AM] EST
The date is currently: [Saturday, March 25 2023]

Changelog
[Jan/06/2023] Added a countdown to my birthday, fixed grammar error on index page, added CuteNews to main page (although I think the php for it is out of date...)
---
[Jan/03/2023] Made new web buttons! Overall working on page organization and file management and getting things to run a little smoother with PHP.
---
[Jan/02/2023] Added a marquee to the homepage, some banner ads here and there, added an affiliates section

Stamp Collection





















































































































































































Cute News
No entries to show